Servicios para el cliente
ConWaste To Go is a simple and efficient alternative which allows the user to rent a mobile container, for days and/or hours, which can be picked up in the user's own pickup truck or ConWaste can delivered it to your home or business.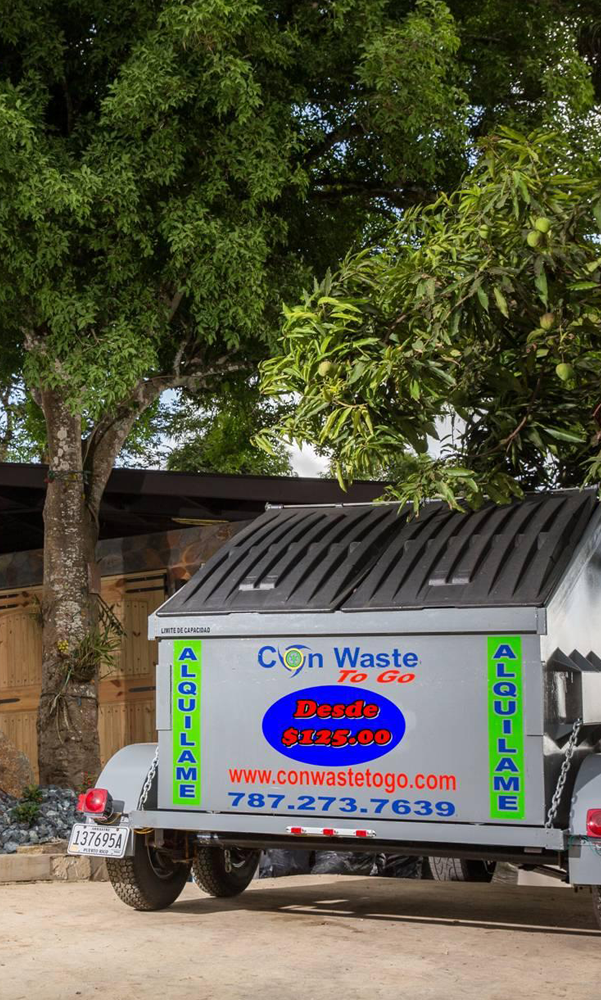 Which advantages ConWaste To Go provides?
It's a more economical service that traditional rental agreements.
It's a short-term rental.
The price of rental includes disposal costs.
The container are 4 yards.
The container fits comfortably in a normal vehicle parking space, either at home, condominium, business, indoor or outdoor parking.
Servimos los pueblos de San Juan, Bayamón, Carolina, Toa Alta, Dorado y Guaynabo con intención de expandirlo a través de toda la Isla.
It's also a very effective alternative for gathering group's events at home, office or business. Let us worry about your party's garbage.
It's safe, easy and eco-friendly.
It's safe; ConWaste is a 100% native enterprise, with more than twenty (20) years of experience in the non-hazardous solid waste business in Puerto Rico. Our staff is professionally trained and easy identifiable, for your peace-of-mind.
It's eco-friendly. All non-hazardous solid waste collected is being disposed at Landfills that comply with local, state and federal regulations.
Locations
We provide the collection service in these areas.